Low-pressure casting
Low-pressure diecasting or low-pressure gravity diecasting enables the tailored production of large-volume aluminum cast parts in small batches. A semi-automated procedure, low-pressure diecasting is particularly superior to the familiar method of aluminum gravity diecasting for large, rotationally-symmetrical molded parts with complex geometries. Densen manufactures aluminum alloy low-pressure diecast parts weighing up to 20 kg. Densen delivers more than just high quality cast parts – If needed, we assemble the cast parts with
steps to form ready-to-install .
As a specialist in low-pressure diecasting of small and medium-sized batches, Densen can offer Low-pressure diecasting at very competitive prices. Low-cost molds for low-pressure diecast parts give our customers a decisive advantage.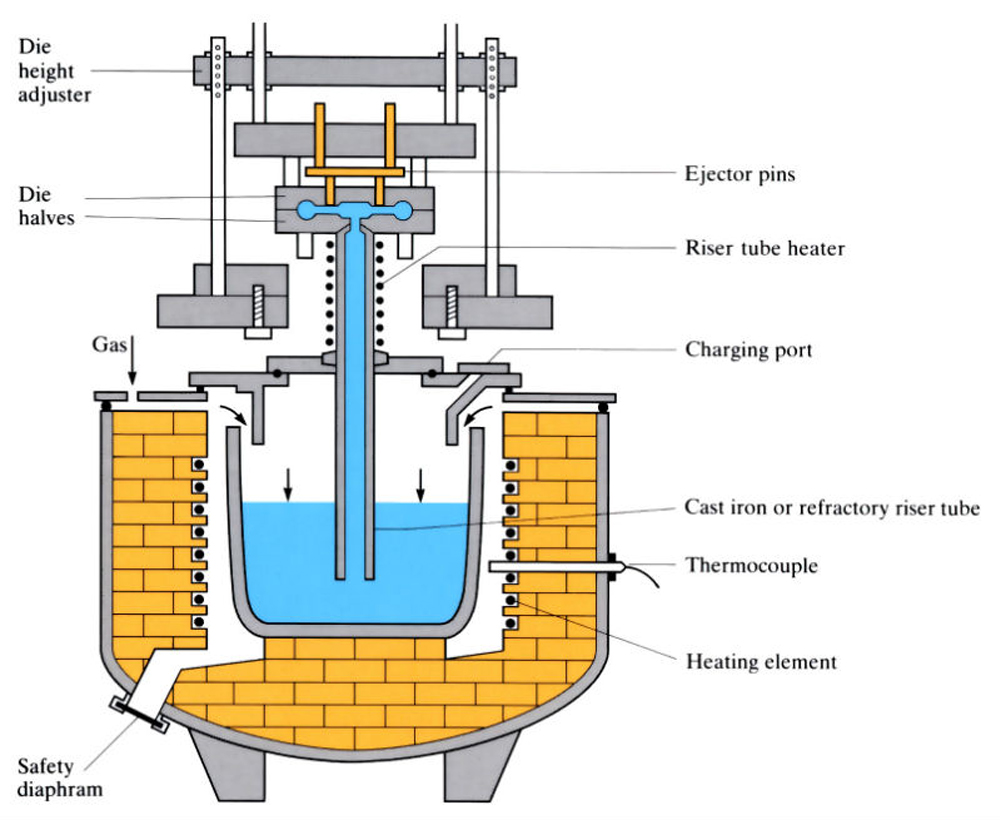 Advantages of low-pressure gravity die casting
The mold-filling properties of low-pressure diecasting make it suitable for thin-wall, large surface parts. Low-pressure diecasting produces a fine-grained, very dense structure with attractive mechanical properties due to the controlled, low turbulence form-filling process and the fast, oriented hardening of the aluminum melt in the metal permanent mold. This largely prevents porosity and shrink holes. Low-pressure diecast aluminum parts have a high dimensional accuracy and surface quality.
possesses good electrical conductivity and superior thermal conductivity which makes aluminum a desirable material in machine building, automobile construction, and the electronics industry. In addition, the fact that aluminum parts are up to two-thirds lighter than those of cast iron makes cast aluminum a desirable alternative. Undercuts and cavities in cast parts can be achieved by using core inserts. Low-pressure diecasting is generally suitable for 200 - 1,000 castings of large-volume parts, however batch sizes of 50 units are sometimes economical. For a few medium-size cast parts weighing up 6 kg, we recommend aluminum gravity diecasting. For thin-wall cast parts in series up to 50,000 units, is the more economical method.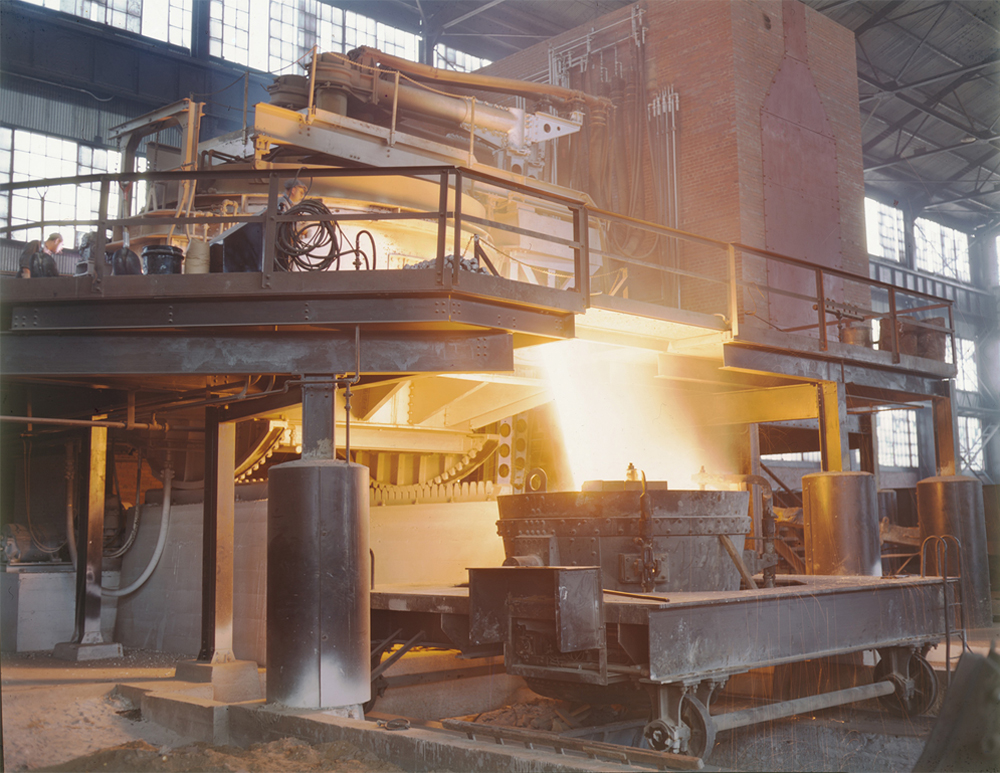 Low-pressure die casting services:
Pieces weighing 500 to a maximum of 20,000 g
For large-volume rotationally symmetrical components (housing shells, compressor housings, etc.)
Suitable for small to medium-sized batch sizes
Maximum mounting surface: 1200 x 800 mm
Inserts of brass or steel are possible (threaded bushings, bearing bushings or bolts, etc.)
Experienced mold and die construction
Low-pressure foundry machines with modular casting cells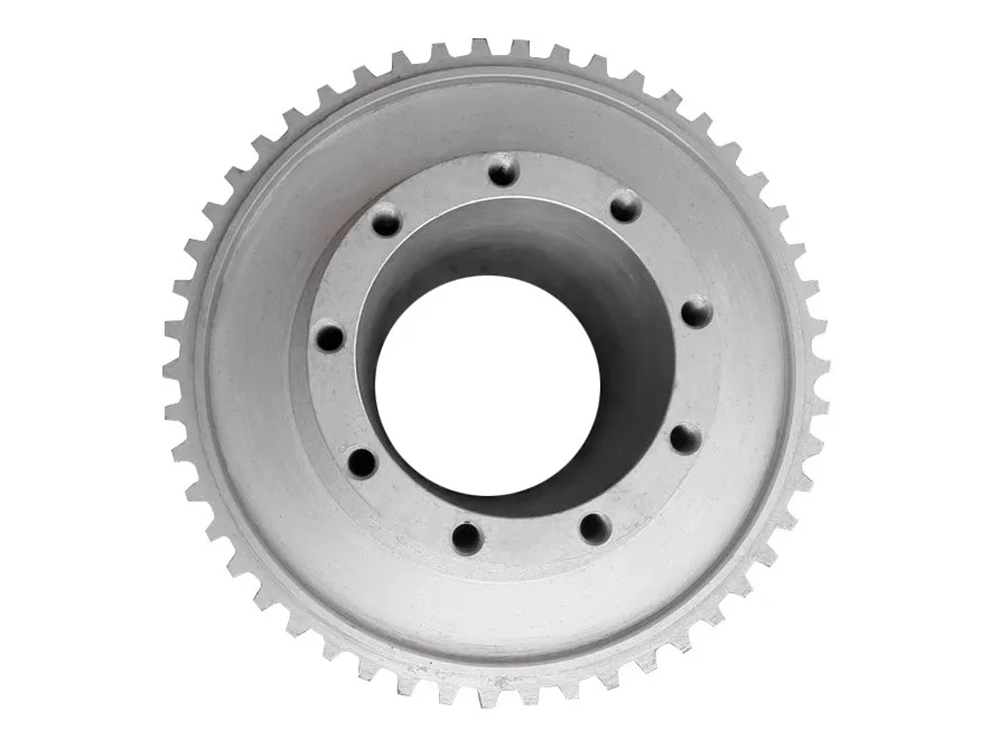 Aluminum alloys for low-pressure diecasting according to DIN EN 1706

| | |
| --- | --- |
| Numerical alloy | chemical alloy |
| EN AC-42100 | AC-AlSi7Mg0,3 |
| EN AC-43000 | AC-AlSi10Mg(a)* |
| EN AC-43100 | AC-AlSi10Mg(b)* |
| EN AC-43300 | AC-AlSi9Mg |
| EN AC-44100 | AC-AlSi12(b) |
| EN AC-48000 | AC-AlSi12CuNiMg* |
| EN AC-51100 | AC-AlMg3(a) |
Benefits of Low Pressure Die Casting:
1.Large scale castings – up to 150kg
2.Fully automated PLC-controlled allowing for repeatability and better quality control
3.Ideal for larger or higher strength castings
5.Platen contains 5 raiser tubes and is 2200×1500 mm in size, providing maximum flexibility for gating and casting design
6.28 Cooling cycles per machine, (14 Air & 14 Water)
7.Capacity to produce low pressure die castings for medium to high volume requirements
8.Intricate cast shapes can be produced
9.Sliding core or sand core can be incorporated into the tooling to produce castings with undercuts
10.Low pressure die casting results in better surface quality